An enterprise-ready SaaS solution that is flexible for any size company, and helps to fulfill customer specific requirements.
Annual Revalidation
Schedule and request in advance your annual revalidation PPAPs.
PPAP Checklist
Ensure the quality of your PPAPs using customized checklists.
Family PPAP
Save Time and Effort by inheriting the PPAP documents from a parent PPAP.
PPAP Level Builder
Save time and meet your Customer Specific Requirements creating your own PPAP Levels.
Clone PPAPs
Save time copying the structure of an existing PPAP to request a new one.
Document Library
Ensure the use of standardized and controlled documents using the Documents Library.
Custom PPAP Elements
Capitalize on low hanging fruit to identify a ballpark value added activity.
Internal and Supplier PPAP
Manage your own Assembly PPAPs and the External Component PPAPs in the same place.
Real-time notifications
Real-time monitoring tool to notify/send critical information as a Notification, SMS, or E-Mail. This helps suppliers and your Team not only save time but to be on top of every step of the process.
Safe and reliable SaaS solution
Store any type of file, up to 100 Mb each document.
You can upload files that you already managed in your current process, like excel, pdf, doc, or cad files. And you maintain a log of each upload leaving the lastest file for revision.
You can work from any device, anywhere. Don't need to install any software.
Our mobile approach allows users to manage PPAP's in real-time from any device and anywhere. Collaboration and implementation made easy.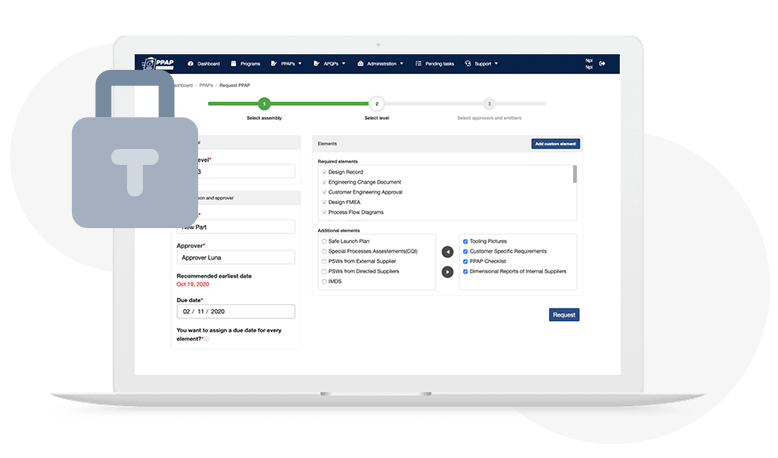 All information and communication is encrypted to ensure confidentiality
Enterprise-grade security and control. With PPAP Manager, data security and data privacy use machine learning and pattern matching to discover and protect your sensitive data.
We can connect with your Legacy systems through our API connectors.
Our APIs allow you to connect to your ERP or PLM, load your BOM, suppliers, and connect all the approved PPAPs to your own local repository.
Compliance with industry standards
We meet with industry standards, AIAG and IATF requirements for Automotive and in Aerospace with IAQG standards on AS9102 and AS9145 on APQP/PPAP introduction.
Options for every company size
We offer pricing to meet your ever-changing needs. All plans
include free training and implementation.
PPAP based subscription
Starts at $349
The ideal choice for companies with 120 or less PPAP managed each year.
A monthly subscription based on the number of PPAPs that your company manages each year.
Price based on PPAP managed
Free APQP module
Unlimited Users
Cloud Service
Custom subdomain
Updates included
One year contract
Company Subscription
Ask for a Quote
The best option to manage several manufacturing sites or a company divsion.
A monthly subscription, unlimited PPAPs, and users, price is storaged based.
Starts at 50 GB secure storage
Unlimited PPAPs
Unlimited Users
Cloud Service
Custom Domain
Updates included
One year contract